Today, Mirror is excited to introduce Collectable Embeds. Creators can now embed NFTs from across Ethereum into their Mirror posts, letting readers collect inline without leaving the post.
Embedding an NFT in your next entry couldn't be easier:
Paste a drop link from popular NFT platforms like Zora, Manifold, and OpenSea directly into the editor, or add a contract address via the NFT menu

Watch the NFT appear in your entry

Mint or buy on secondary directly from the embed!
For creators
With Collectable Embeds, Mirror's tools now compose with NFTs across Ethereum. Mirror has already become the best-in-class tool for creators to announce their projects to the world and share community updates, as well as build an engaged community via Writing NFTs, Subscribe to Mint and Web3 Subscriptions. Collectable Embeds tie it all together.
Now, any creator making NFTs using tools like Zora, Manifold, Foundation, and Sound, as well as those making their own custom NFT contracts, can add Mirror to their creative suite to provide context and meaning to their drops, and build an engaged subscriber base of collectors.
Creator spotlight: Wisdoms For Neknel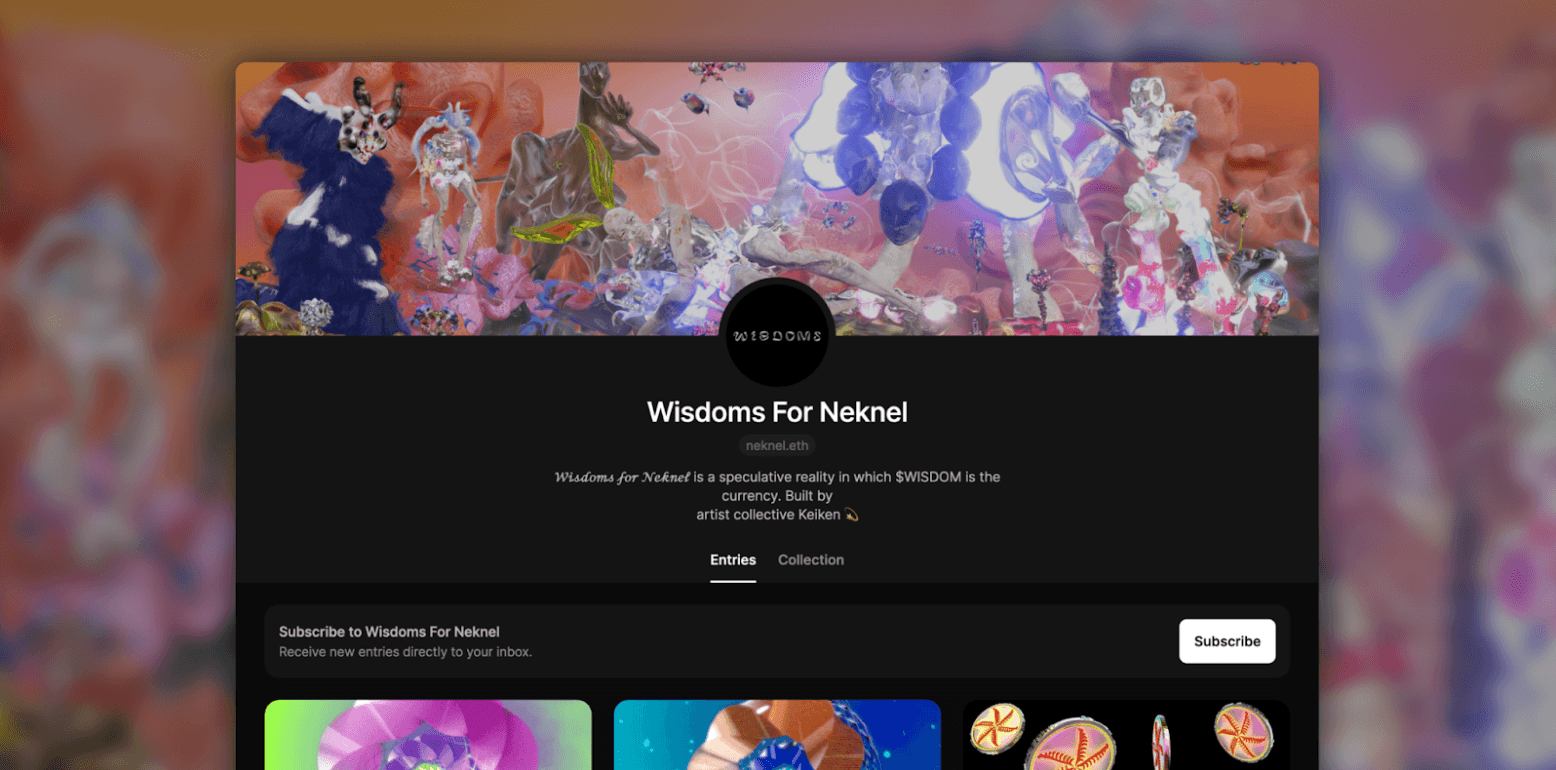 Neknel introduced their project to the world with a Mirror post that included a Subscriber NFT – Wisdoms for Neknel Pass #1 – that helped Neknel bootstrap an engaged community of over 500 collectors from day one. Neknel followed it up with three more NFT Passes that were created on Zora and shared in another Mirror update. The campaign culminated in their official Vessels NFT drop on their custom minting site, which they announced on Mirror. And as a reward to their Mirror community, all subscribers were added to the NFT mint allowlist.
You can mint your own Wisdom Vessel right here and explore more from Neknel by clicking their byline.
Composing with NFTs across Ethereum
At Mirror, one of our biggest daily inspirations is the creativity, innovation and dynamism across the NFT ecosystem. Creators like Neknel have multiple platforms to choose from when they drop their latest NFT project – including mainstays like Foundation, Zora, and Manifold. And we love seeing newer use cases, like the music community at sound.xyz and the mint aggregator mint.fun.
The communities forming across these platforms are impressive, and we think that Mirror's tools can provide them with complementary utility – context, story, and updates beyond the initial drop, verifiably provided by the creators themselves. Today, in order to find out who's behind an NFT project or what the artistic vision is, you need to look to various web2 platforms like Twitter and Discord in order to piece it all together. And none of those platforms compose with web3. That's where Collectable Embeds comes in.
With Collectable Embeds, creators can now announce their latest NFT drop in a Mirror post that delves into the vision for the project, while also letting readers collect their NFTs in-line and follow the whole journey by subscribing. And they can pick the NFT creation platform that works best for them – Collectable Embeds will work with any of them.
And once a creator has set up their profile, anytime their NFTs are shared on Mirror, the NFTs link back to the creator's Mirror profile so that the context is never again separated from the work. Meanwhile, a creator's community can return to Mirror and be notified of updates, related drops, and web3-native perks.
Check out how embeds are being used by Interface, a social activity feed for web3, and NoiseDAO, a community supporting music creators.
For curators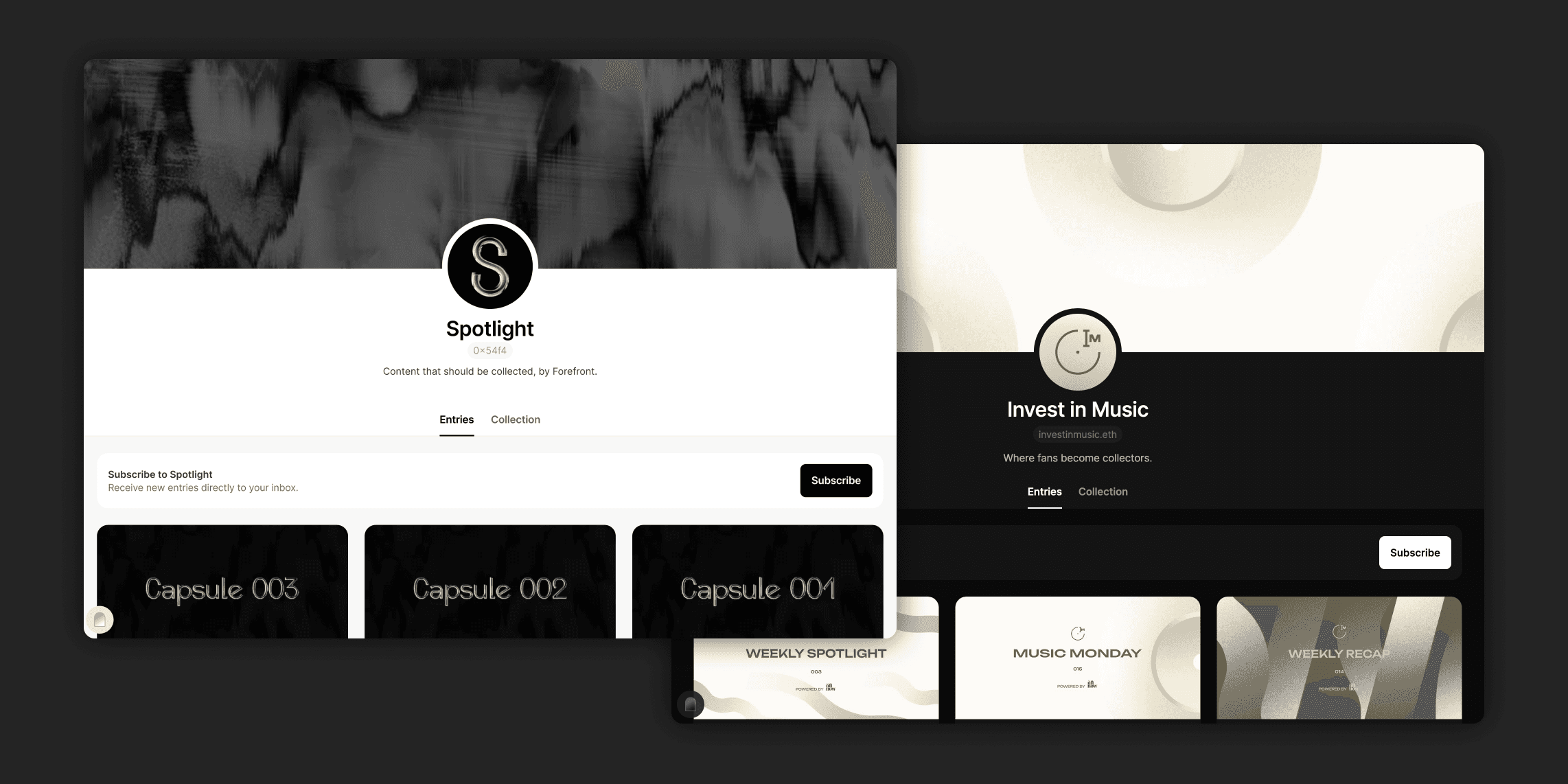 For an emerging creative subculture to thrive and ultimately go mainstream, it needs more than just creators – it needs curators who can surface the best work, give it context and spur discourse.
Until now, NFT discovery, discourse, and curation has been fragmented across web2 tools that don't natively integrate with NFTs. Great projects are released every week, but it's really hard to find them or keep up. If you want to collect, you have to navigate between web2 feeds and web3 marketplaces. Mirror solves this by combining its powerful storytelling and community building tools with Collectable Embeds.
We're excited to introduce Collectable Embeds with two exciting curation partners:
Spotlight— a newsletter of ideas and experiments worth collecting, published by Forefront. Check out the drops they highlight in Capsules 001, 002, and 003.

Invest in Music— a music NFT newsletter where fans become collectors. Check out some of the top music NFTs in their Collector Starter Pack.
We believe that great taste has value all its own and imagine a future where curators are key participants in the NFT economy, with large followings and a critical role in the value flow.
To that end, we're piloting a Curator Rewards beta program that puts curators directly into the value flow. For each NFT minted via a Collectable Embed in a participant's post, they will earn a share of minting fees and referral rewards.
We hope these incentives spark a surge in curation that surfaces the best NFTs across categories and platforms, and that curation becomes a new way of expanding the reach of – and making a living in – the NFT ecosystem.
You can apply here to the Curator Rewards private beta program.
---
Collectable Embeds are available for you to use right now in the Mirror editor. We can't wait to see what you create.